Curved sandwich composite panels
Tailored for your application
When high-performance and low weight are key requirements for your structure, a composite sandwich construction provides an excellent solution.
Many composite material combinations are possible to achieve the performance required within the budget available. Curve Works has developed curved sandwich panel solutions for a variety of applications.
What is a composite sandwich panel?
A sandwich construction is simply built up of rigid foam core and reinforcing skins. For structural light-weight uses, the skins are typically fibre reinforced plastics, such as carbon fibre epoxy and glass fibre polyester but many different combinations of fibre and resins are possible to achieve the required performance.
For an eco-friendly design
From new methods to build your structure to all-in-one structural solutions, a composite sandwich construction have a lot to offer.  And together with our reconfigurable mould technology, we can build singly and doubly curved shapes without the waste from tooling.
Being lightweight and extremely efficient, a composite sandwich is key in eco-design. Why? Because more than 70% of the volume of a sandwich panel is simply air!
semi-sandwich panel
The newest product in our portfolio: structural foam core supplied with reinforcement on one side only. We split your structure into panels and manufacture directly on our reconfigurable mould The semi-sandwich panels are chamfered or joggled for ease of assembly. Super versatile for tool-less manufacturing!
structural sandwich panels
A lightweight solution for very demanding applications. We have expertise in composite shell structures with our own structural analysis tools. This means we can walk through the whole process from concept to realisation no matter how challenging the application.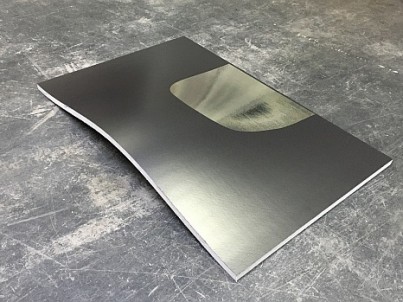 architectural panels
Our architectural panels are designed to have the lowest carbon footprint in their class. We implement new materials such as recycled foam core and bio-resins whenever it makes sense. Suitable for both exterior and interior applications, our blind-mounted panels are finished with the look you need.